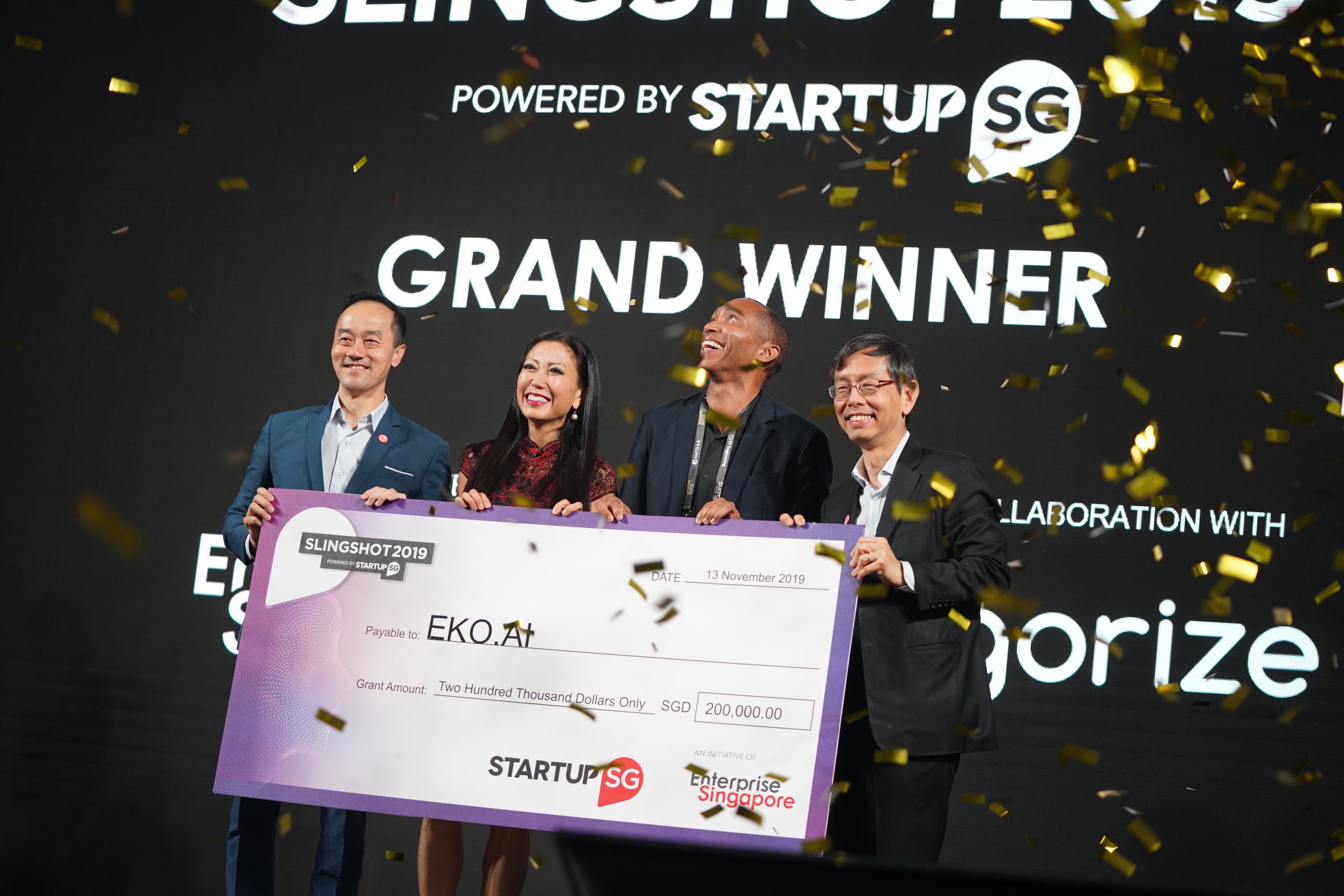 Launch your startup into Asia!
Calling all startups: Asia's most exciting deep tech pitching competition is back!
This is your chance to anchor yourself in Singapore – one of the world's top innovation nodes – and compete for over S$1.1M (US$800,000) in attractive prizes
In our fifth edition, we are looking for startups in four emerging challenge sectors to showcase your game-changing solutions and products. Make the pitch of a lifetime to a global audience of major investors, industry leaders, and thought leaders!
Shortlisted startups will be given the opportunity to develop corporate partnerships and join us at Singapore Week of Innovation and TeCHnology 2021 (SWITCH 2021).
Your idea might just kick start a journey of a lifetime!
---
SLINGSHOT 2021 Top 100
Congratulations to the Top 100 startups who will be pitching at the SLINGSHOT Finals that will be held at SWITCH from 8–10 November 2021.
3Bee
Adiuvo Diagnostics Pvt Ltd
Advanced Robotics Corp.
Aeroport AI
AETA
AlgoDriven
AlgoDx AB
Alterpacks
Amy.app
Augmented Human Technologies Pte Ltd
AVA Information Systems GmbH
Azooka labs
B Data Solutions Inc.
BackyardCreators
Biovitae
BRAINGRADE INC
BRIO MRS
Cell4D Pte Ltd
CleanHeights Robotics Pte Ltd
"ClearLeaf
CMCL Innovations
Cogniable
Cosm Medical
CYFIRMA
Datakrew
Decomer Technology
DeepCare
Eden Agritech Co., Ltd.
EIKO TECHNO
FathomX
Forte Biotech Pte Ltd
Fountain9, Inc.
GoodWAN
Hashstacs Pte Ltd
Hexadrive Engineering
HK Decoman Technology Ltd
Hubly Surgical
Hydrumedical
Infoseed
InnovaFeed
IPification
IXON
JEFF
Kraftblock GmbH
Lifetrack Medical Systems
LitmusEye Labs Private Limited
Lucent BioSciences Inc.
Matisoft Cyber Security Labs
Mediktor
MicroQuin
NetObjex
Nextar Chempharma Solutions
Niral Networks
Nutrenno
"Predictiv
Protos Labs
Qidni Labs Inc.
Quantum-South
Quantumcyte Inc.
Qure.ai
Radiobotics
RetinaRisk
RoadMetrics
RoPlus Pte Ltd
Senior Deli
Serket B.V.
SoMin.ai AI Marketing
SOURCE Global PBC
STYLUMIA
SunGreenH2
Takachar
TechNovator-UK Ltd.
Throne Biotechnologies
Tide Foundation
Touchless ID
TransSiP Inc.
Typewise
Umami Meats
Valkyrie Industries Ltd
viAct
Vidcare Innovations
VisualCamp
Vixsystem - Soluções em Tecnologia da Informação
Volt14 Solutions
VRJAM
Vulcan Augmetics
WEGoT Utility Solutions
X-ZELL
Zeta Surgical