Launch your startup into Asia!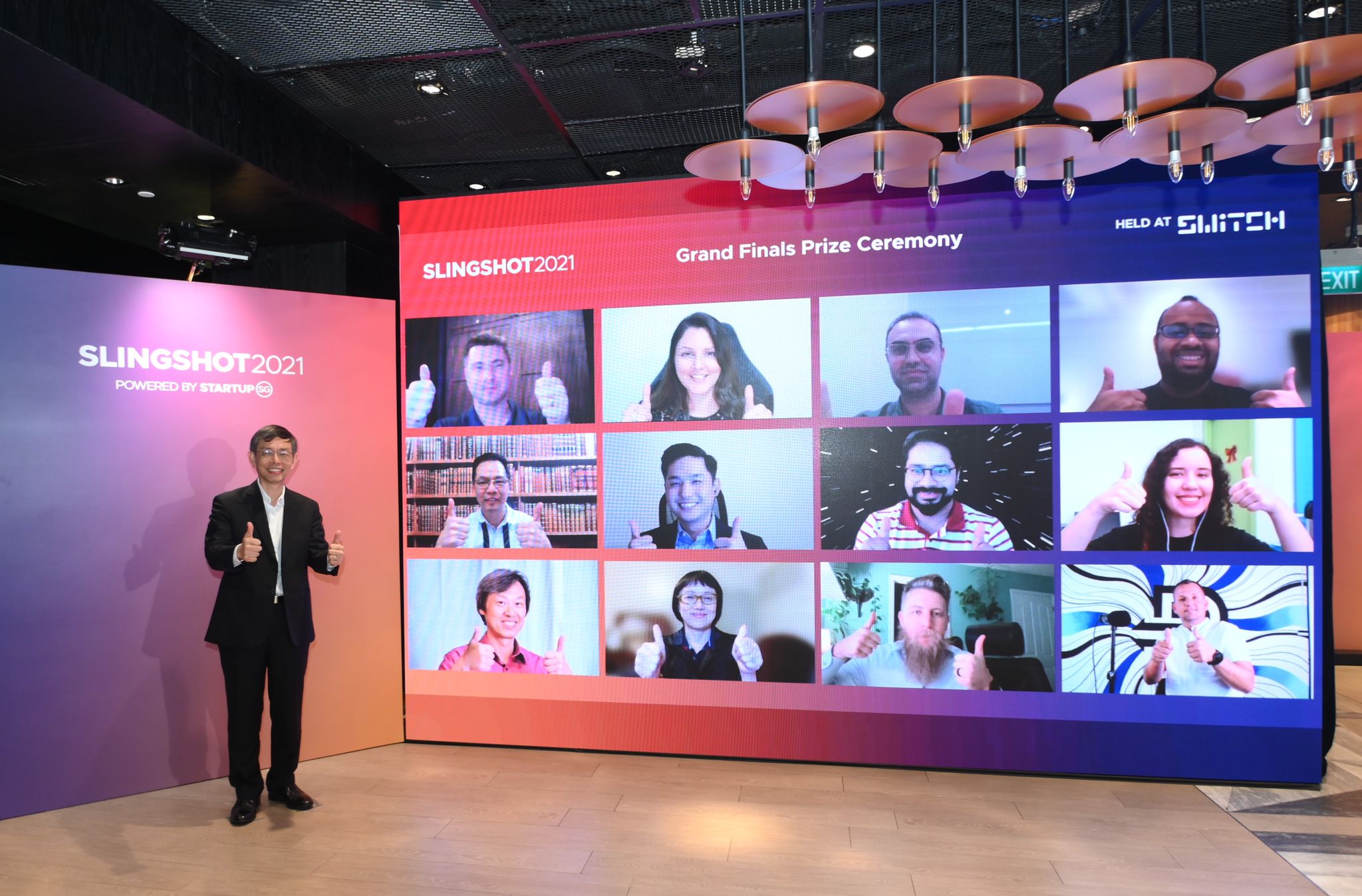 Calling all startups: Asia's most exciting deep tech pitching competition is back!
This is your chance to anchor yourself in Singapore – one of the world's top innovation nodes – and compete for over S$1.1M (US$800,000) in attractive prizes
In our fifth edition, we are looking for startups in four emerging challenge sectors to showcase your game-changing solutions and products. Make the pitch of a lifetime to a global audience of major investors, industry leaders, and thought leaders!
---
SLINGSHOT 2021 Grand Winner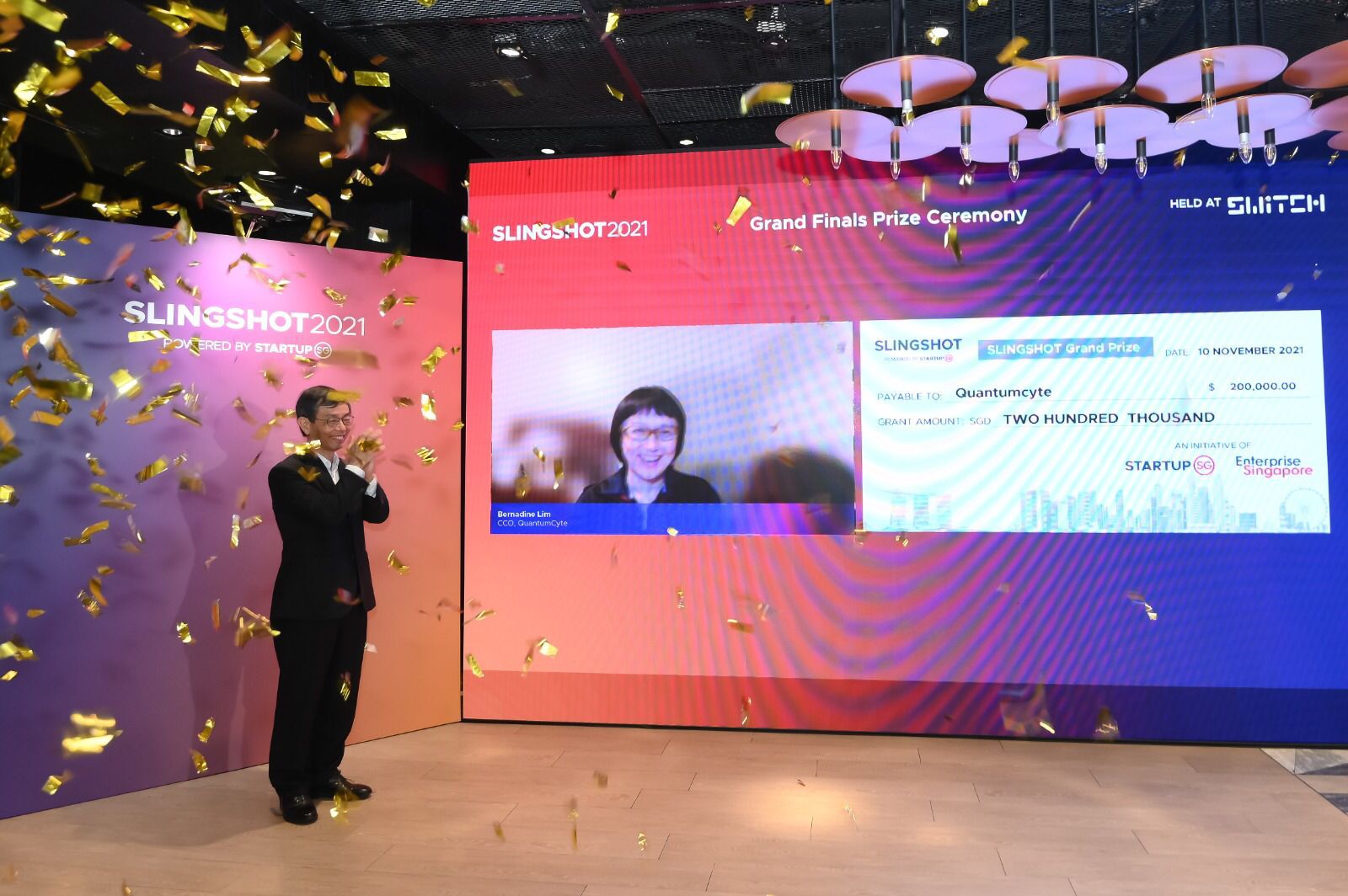 After 3 days of intensive pitching, our SLINGSHOT Grand Winner has emerged! We would like to congratulate Quantumcyte, an artificial intelligence-integrated tissue dissection solution that provides more accurate test results for cancer patients.
Quantumcyte walks away with a Startup SG Grant of S$200,000 (in addition to the Startup SG Grant of S$50,000 for being a Sector winner), and 18 months worth of rent-free space at JTC Launchpad.
To learn more about the SLINGSHOT 2021 competition and programme, please click here.
---
SLINGSHOT 2021 Top 12 Grand Finalists
Congratulations to the following startups who were selected as the Grand Finalists through the sector finals:
Health and Wellness
Biorithm - Integrated maternity care solution to improve perinatal outcomes
Braingrade - Implantable neurostimulator to treat Alzheimer's disease
Quantumcyte - Artificial Intelligence-integrated tissue dissection solution
Sustainability
Allozymes - Microfluidic technology that develops custom-designed enzymes for sustainable manufacturing of complex natural products
SOURCE Global - Hydropanels that make drinking water from only sunlight and air
SunGreenH2 - High performance electrolysters fro green hydrogen production
Frontier Digital Technology
ReverseAds - Keyword advertising platform built to compete against Google Ads
TransSIP - Technology to reduce electronic noise to improve performance of devices
VisualCamp - AI based eye tracking technology that allows you to better understand users
Smart Cities
Datakrew - No-code IoT platform to allow companies to deploy enterprise IoT solutions rapidly
ViAct - AI solution to automate construction monitoring to improve safety and productivity
Vixsystem - Assistive technology for visually impaired
---
SLINGSHOT 2021 Top 100
Congratulations to the Top 100 startups who will be pitching at the SLINGSHOT Finals that will be held at SWITCH from 8–10 November 2021.
3Bee
Adiuvo Diagnostics Pvt Ltd
Advanced Robotics Corp.
Aeroport AI
AETA
Aevice Health
AlgoDriven
AlgoDx AB
Alloyzymes
Alterpacks
Amy.app
Augmented Human Technologies Pte Ltd
AVA Information Systems GmbH
Aevice Health
Azooka labs
B Data Solutions Inc.
BackyardCreators
Biorithm
Biovitae
BRAINGRADE INC
BRIO MRS
Cell4D Pte Ltd
CleanHeights Robotics Pte Ltd
ClearLeaf
CMCL Innovations
Cogniable
Cosm Medical
CYFIRMA
Datakrew
Decomer Technology
DeepCare
Eden Agritech Co., Ltd.
EIKO TECHNO
FathomX
Forte Biotech Pte Ltd
Fountain9, Inc.
GoodWAN
Hashstacs Pte Ltd
Hexadrive Engineering
HK Decoman Technology Ltd
Hubly Surgical
Hydrumedical
Hyperganic
Infoseed
InnovaFeed
IPification
IXON
JEFF
Kraftblock GmbH
KYAN Therapeutics
Lifetrack Medical Systems
LitmusEye Labs Private Limited
Lucent BioSciences Inc.
Matisoft Cyber Security Labs
Mediktor
MicroQuin
NetObjex
Nextar Chempharma Solutions
Niral Networks
NUProtein
Nutrenno
Predictiv
Protos Labs
Qidni Labs Inc.
Quantum-South
Quantumcyte Inc.
Qure.ai
Radiobotics
ReverseADs
RetinaRisk
RoadMetrics
RoPlus Pte Ltd
Senior Deli
Serket B.V.
SoMin.ai AI Marketing
SOURCE Global PBC
Stayr
STYLUMIA
SunGreenH2
Takachar
TechNovator-UK Ltd.
Throne Biotechnologies
Tide Foundation
Touchless ID
TransSiP Inc.
Typewise
Umami Meats
Valkyrie Industries Ltd
viAct
Vidcare Innovations
VisualCamp
Vixsystem - Soluções em Tecnologia da Informação
Volt14 Solutions
VRJAM
Vulcan Augmetics
WEGoT Utility Solutions
Wittaya Aqua
X-ZELL
Zeta Surgical