Domain Finals & Grand Finals
SLINGSHOT 2023 Winners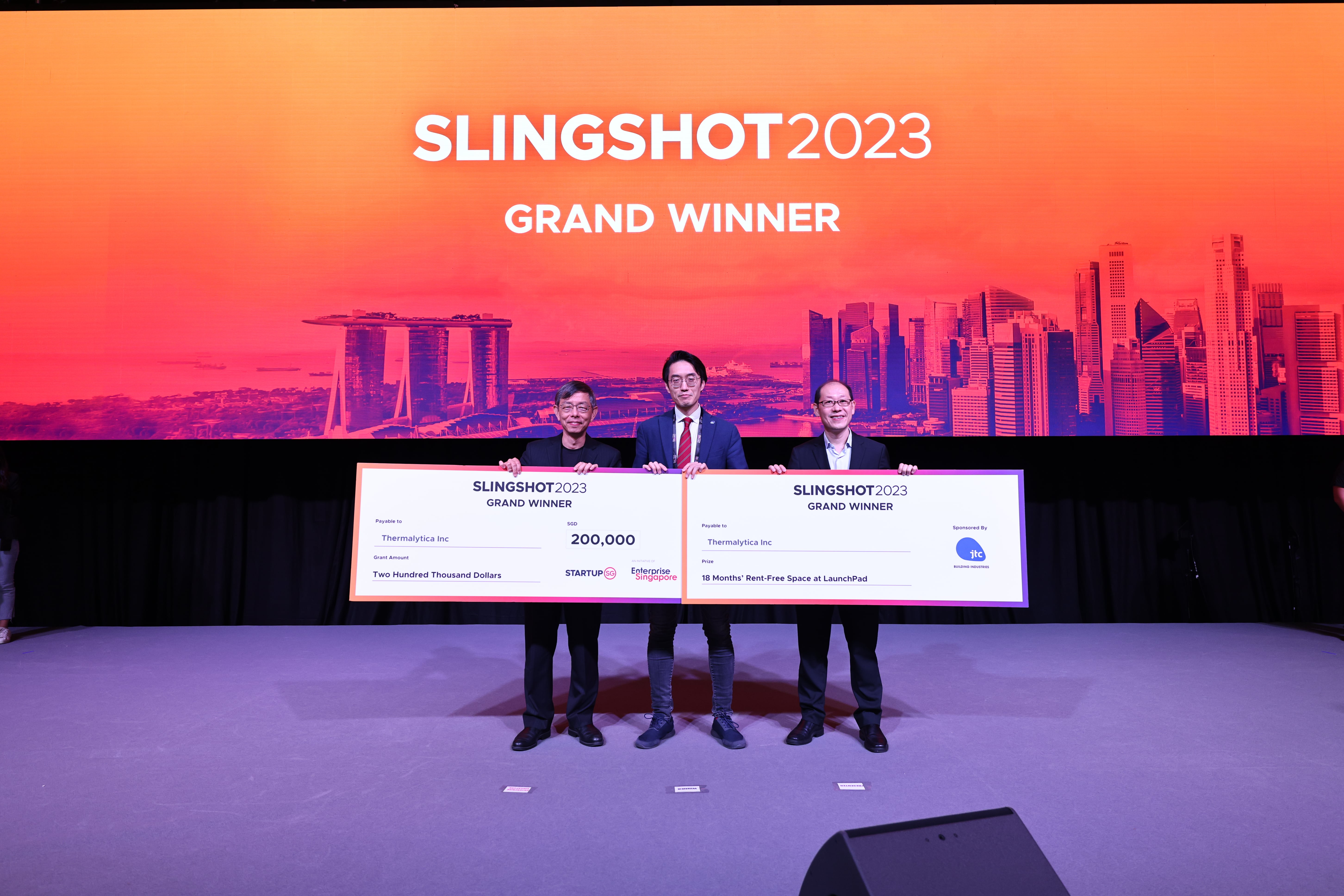 Imagine energy-efficient household appliances, sustainable construction practices, and the realisation of net-zero energy buildings. This is a future made possible through the novel tech solution offered by Thermalytica Inc., which emerged as the Grand Winner of SLINGSHOT 2023.
The first runner-up was Bering Lab Inc., which provides domain-specific translation engines and tools powered by Artificial Intelligence (AI) for the legal and patent industries; while the second runner-up was Kinexcs Private Limited, an AI-driven digital health and wearables company focused on enabling mobility for patients with musculoskeletal conditions.
---
Top 10 Grand Finalists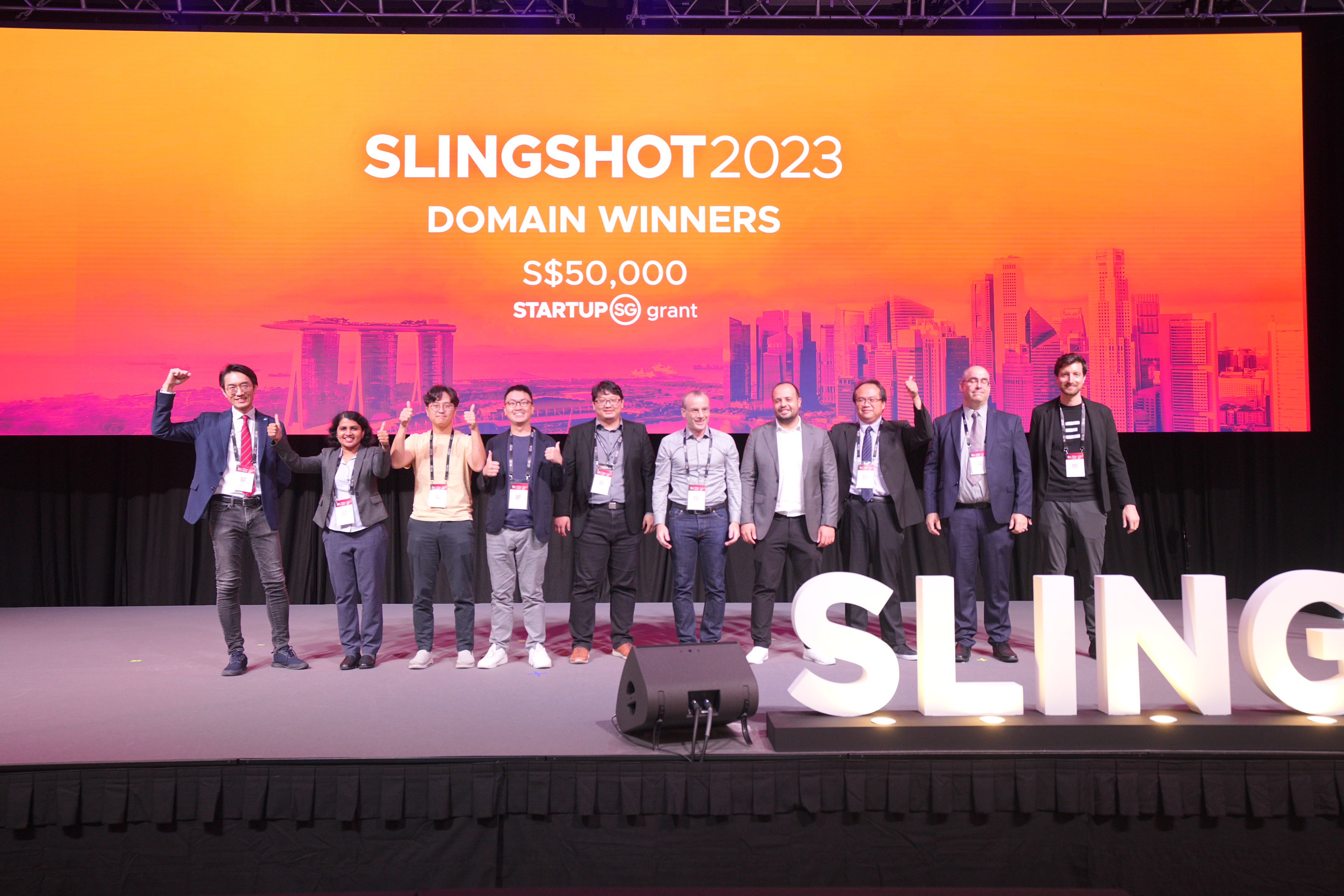 Transformative Digital Technologies
Bering Lab
MetaTrust Labs
Health & Biomedical
Consumer Media, Goods & Services
Manufacturing, Trade & Connectivity
FLITE Material Science Corp
AP PLASMA Corporation
Environment, Energy & Green Technologies
---
Top 50 Global Startups
Transformative Digital Technologies
| | |
| --- | --- |
| Startup | Brief description |
| | The rise of generative AI is playing a disruptive influence on digital trust which has major implications for society and the business ecosystem. Accredify allows firms to co-exist with AI by using the blockchain to create verifiable documents and trusted information exchange. |
| | Avalanche Computing provide high-performance computing tech for AI with their flagship product, hAIsten AI - a low-code AI development tool that optimizes AI software, scales computing power, and converts AI models to all edge without code. |
| | We provide domain-specific AI translation engines and tools for the legal and patent industries. Our engines are 2x better than Google Translate for contracts and patents. We currently serve 60+ law firms, patent firms, and big corporates. |
| | We use AI technology to create virtual influencers with photo-realistic virtual faces and use them for marketing. We develop virtual face graphic technology and related service solutions so that anyone can change their desired face in the digital world. |
| | Certifications are expensive and complex. ISEGRIM X now combines best-in-class certification processes in Information Security with digitization, automation, and AI leading to 50%+ time and cost savings while providing a superior customer experience. |
| | MetaTrust Labs is a trusted name in the world of builder. Our cutting-edge R&D capabilities and a team of over 80 skilled security researchers enable us to provide a comprehensive suite of fully automated AI security solutions for builder. |
| | Backed by world leading venture capitals, PhotonIC is developing and commercializing low-power high-speed optoelectronic integrated IC solutions to serve the fast-growing optical /data-com, and 3D TOF markets. |
| | ProHawk AI patented algorithms enable real-time, pixel-by-pixel video restoration, overcoming all environmental obstacles, allowing earlier and greater object detection to capture a leading share of the impending $135B Computer Vision market. |
| | Transparently has built an artificial intelligence solution that enables the early detection of accounting manipulation and fraud. We provide information that allows users to improve corporate monitoring, make better investments and avoid losses. |
| | It is a surgical robots company as well as an Industrial +AI company based on medical scenes. It is the real "AI vertical landing scene". Through self-developed AI terminal+ cloud brain + smart factory. |
Health and Biomedical
Startup

Brief description

Using Voice to Save Lives, enabling mass prevention of strokes and chronic complications over time in at-risk populations using voice-based markers for telemonitoring & screening, revolutionary affordable, scalable, age-friendly monitoring solutions

Eupnoos is the Shazam of disease diagnostics. Our app 'listens' to breath sounds when you blow into your smartphone to instantly identify patterns associated with cardiorespiratory diseases and their severity, combating over and under-diagnoses.

Frontier Bio creates lab-grown human tissues to replace animal testing and save patient's lives. With $3.3M in sales, and great partners like Mayo Clinic and Intuitive Surgical, Frontier Bio is revolutionizing

Kinexcs is an AI-driven digital health and wearables company enabling people for mobility and better lives. We develop tech solutions to address chronic and acute musculoskeletal conditions, backed by top hospitals, leading device companies and VCs.

NELA BioDynamics develops advanced intramedullary implants for orthopedics. Our technology offers personalized, dynamic solutions for joint replacements, fracture reconstructions, and exoprosthetics, transforming patient care.

Neurowyzr aims to protect quality of life and optimise personal potential by enabling early detection, diagnosis, therapy, monitoring, and prevention of brain decline using neuroscience-based digital solutions.

Psylo is a small molecule biotech start-up developing next-generation therapeutics inspired by psychedelic compounds that exist in nature. By removing the hallucinatory effects of such compounds, we will extend the healing potential to a broader population.

Shenzhen Huayi Medical Technology Co., Ltd. is a consumer technology company focusing on contactless health monitoring equipment. It is one of the first batch of companies to apply millimeter-wave radar technology in the field of health care with 23 core invention patents, the accuracy of data from current products has been close to the gold standard from PSG, reaching the clinical level.

The contactless health monitoring equipment continuously monitors the user's heartbeat, breathing, sleep and other physical conditions and whether one fall, so that the user can always know the physical condition of himself and his family, and better care for the health of himself and his family. According to the use needs of different users and scenarios, it can be widely used in the elderly, maternal and infant populations, pet care, cardiopulmonary diseases and sleep disorders, and other populations. It's suitable for home scenes, hospital scenes, car cockpit scenes, public security and what's more for office, school, hotel, community and other scenes.

Life and health is an eternal topic in the world. We hope that human beings can prevent themselves and their families' health in advance before major diseases occur, protect and care good health and make life thicker.

Signatur Biosciences makes precision diagnostics more accessible, starting with breast cancer prognosis. Our tests are designed to seamlessly integrate with standard instruments and workflow already in place in every clinical lab.

Founded in the US, in collaboration with leading bioelectronic medicine researchers in Europe, Somnial is looking to create a startup in Singapore to conduct development, commercial manufacturing, and commercialization focused on APAC region.
Consumer Media, Goods and Services
| | |
| --- | --- |
| Startup | Brief description |
| | AIDONIC provides NGOs and Governments with a digital B2B platform that combines impact tracking, humanitarian cash delivery in +200 countries and data management into one seamless platform, powered by blockchain technology. |
| | ÄIO offers more sustainable alternatives to palm oil and animal fats, commonly used in food, cosmetics, and household chemicals. ÄIO's technology upcycles residues by fermentation. The company started Series A funding round and is looking for a leading investor. |
| | Transforming accessibility and education with affordable braille tech and inclusive gaming. Bridging gaps and fostering social inclusion for the blind while improving the educational journey. |
| | Backed by Peak XV and Pear, Cooby is the leading WhatsApp AI Conversational Sales Platform. We help companies turn their WhatsApp sales reps into champions by seamlessly logging sales interactions into their CRM and offering transformative sales insights. |
| | Deeplant supplies tender and flavorful high-protein real meat by patented aging accelerating technology, Deep-Aging System. We can process meat, even unfavorable tough cuts, to be value-added products. The products are healthy, tender, and delicious meat. |
| | Get A, an online examination system by offering fraud prevention, convenience to setup, and deep analytics for individual and group evaluations. It's a more secure and more insightful solution to enhance curriculum planning and development. |
| | Indivd helps stores and malls to become more sustainable, data-driven, and cost-efficient by using our patented and privacy-friendly AI-based people counter which reduces costs by 60-95% and increases accuracy by 6,5x. |
| | We provide AI Face Editing solutions. Our co-founders are all Ph.D./MS majored in AI at the best engineering school in South Korea. We can assure you that our technology is the best in South Korea. Recently, we attracted a Pre-A investment from HYBE. |
| | Krosslinker is an innovation driven clean tech startup, focusing on energy efficiency through development of an advanced super-insulation material, aerogel, for challenging insulation application. |
| | The Iterative Collective is an award-winning indie game publisher building an ecosystem for video games. |
Manufacturing, Trade and Connectivity
| | |
| --- | --- |
| Startup | Brief description |
| | 95%+ of indoor real-time tracking today is a pain to set-up and maintain – it requires heavy wiring and months of specialized training. We innovate the space with fully battery-operated IoT devices that decrease set-up and maintenance time by 60%. |
| | We are the first in ASEAN to develop a unique service (Senstrio) that redefines spectroscopy by integrating hardware and software into a platform that optimises performance capability and makes research easier for all. |
| | If you're operating a top-selling international shoe brand, product quality and eco-friendly production are key. What if we could offer a solution to make shoes from air? Wouldn't you want to buy or invest in that? |
| | Armastec specializes in fabric exoskeletons for manual work. The AireLevate is 2x as effective, 1/5 the cost, and ½ as light as a metal suit. We began our pilot rollout, starting a funded partnership with a hospital network and are closing US distributors |
| | Droneport - Airports for drones. EVA's builds drone corridors to provide connectivity in hard to reach areas delivering life saving medicines and everyday goods. Nationwide drone highways will become a reality through EVA |
| | FLITE replaces coatings with clean laser treatments, improving safety and resilience without harming the environment. We succeed when we embed the technology directly into the client's manufacturing or maintenance for long term license and royalty fees. |
| | Through optical imaging technology, high-precision image recognition technology, and AI image analysis technology, we have been able to achieve complete automation of high-precision defect detection and measurement of micron-sized medical consumables. |
| | Intelligent Machine learning and Data analytics driven Energy Cloud solution for systems with distributed energy resources. |
| | We are an IP company in metal relative industries, focusing on the R&D of liquid metal alloys (LMAs) and related applications. We have over 17 approved invention patents, including surface treatment, fuel cell, semiconductor, PCB , and ESG applications. |
Environment, Energy and Green Technologies
Startup

Brief description

Circular Unite is your partner in achieving decarbonization and sustainability goals. Our Core expertise lies in transforming complex waste management data into actionable insights and carbon emission calculations. Through N.A.T.A.L.I.E, our platform, we empower businesses to make data-driven decisions for environmental compliance and decarbonization strategies. What sets us apart is our commitment to fostering Industrial Symbiosis, connecting waste generators with potential off takers, turning waste into a resource.




Our track record includes helping organisations such as Mapletree Vivo City and LinkedIn Singapore digitalise their waste data and our platform has been recognised for its innovation and potential. Circular Unite isn't just a solution; we're a movement dedicated to transforming waste into value and promoting resource efficiency.

We send large amounts of power long distance, wirelessly.

At Entomal Biotech, we breed flies and turn waste into wealth. With our cutting-edge technology in breeding, rearing, and automation, we're on a mission to revolutionise waste management practices, reduce emissions, and create a sustainable future

Float Foods Pte Ltd is a Singapore-based food technology start-up founded by Vinita Choolani with a mission to innovate, develop and advance the plant-based foods ecosystem. Float Foods develops food technology and innovations in plant-based eggs and alternative proteins with the aim of contributing to food safety, creating a sustainable environment, and enabling consumers to eat healthy, nutritious foods.




The first ready-to-eat OnlyEgTM products were launched in Singapore in June 2022, and are already Singapore's fastest selling plant-based egg brand, with adoption amongst Marina Bay Sands, Shangri-La Singapore, Fairmont Singapore, Conrad Centennial Singapore, and well-known cafes and restaurants such as OldTown White Coffee, Salad Stop and Privé. Presently, we are also available in these four markets: Malaysia, Hong Kong, Australia and Dubai.Float Foods is venture backed and supported by Temasek Foundation and the Enterprise Singapore Startup Scheme.

Nanomatics is driven to make a positive sustainability impact. Through advanced technology, we convert plastic waste into products with high market value surpassing alternatives. With our services and products plastic waste treatment becomes profitable.

At Naturbeads we want to totally replace polluting and intentionally added microplastics with our plant-based solutions. To do so, we harness the power of cellulose to have a platform of cost-effective biodegradable ingredients for multiple industries

Polybee is increasing profits in agriculture by automating pollination and yield forecasting with micro-drones and AI. Our customers: world's biggest agriculture companies like Bayer and Syngenta. Investors: SEEDS Capital. elev8 VC, Temasek Foundation.

As process architects for molecular bio recycling, Rheiazymes delivers biotech solutions to pivot entire industries to circular value chains. We contribute to decarbonize industries such as the fashion industry with our targeted technology applications..

Thermalytica, a clean-tech startup, offers cutting-edge solutions based on its patented TIISA® thermal insulation materials for energy-efficient household appliances, sustainable construction practices, and the realization of net-zero energy buildings.
* Last updated: 28 Oct 2023